HGS CE Course: De-Risking with CSEM
Important! Please do not create a duplicate login if you already have one. If you have forgotten your password click the "Request new password" tab above to reset your password.
De-Risking Exploration and Production with the
Controlled Source Electro-Magnetic Method [CSEM]
Electro-magnetic methods have come a long way from the descriptions of Vertical Resistivity sounding and Magneto-Tellurics given by Milton Dobrin in Introduction to Geophysical Prospecting. From individual inventors and small company efforts in the 1970's and early 1980's, EM and related research was confined mainly to the academic universe until the late 1990's. The techniques have now been in production mode since 2001.
Our four speakers will be presenting the theory of their acquisition and processing methods, as well as techniques for integrating CSEM with the other geophysical and borehole tools for maximum impact on our interpretation and evaluation needs. The images they have provided, below, give evidence of their success to date.
Agenda:

Introduction & Theory 30 mins by OHM/RSI
Acquisition Methods 30 mins by EMGS
Processing and Inversion 30 mins by EMGS
Modeling and Interpretation 30 mins by OHM/RSI
CSEM and MT[Magneto Telluric] Case study 1 hour by WesternGeco

Lunch

CSEM case study and live demonstration 1 hour by EMGS
CSEM case study and possible demonstration 1 hour by OHM/RSI
Question and Answer session 30 mins by all
Click here to download the CSEM poster that was displayed at the 2009 Technofest, and is pictured below.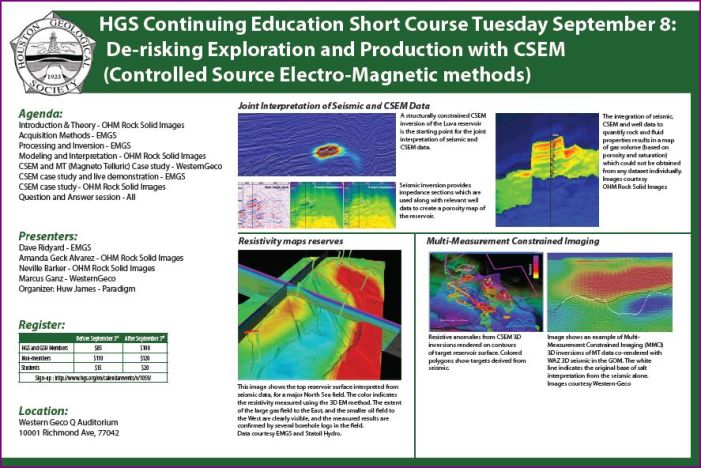 Registration fee Includes Lunch, Refreshments, Notes and PDH Certificate.
Note: Registration pricing for GSH members is the same as for HGS members.
Example Figures from Course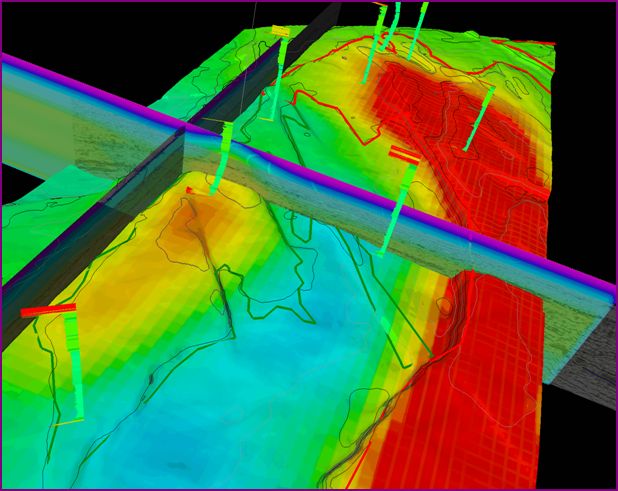 1.
Resistivity Maps Reserves:
This image shows the top reservoir surface interpreted from seismic data, for a major North Sea field. The color indicates the resistivity measured using the 3D EM method. The extent of the large gas field to the East, and the smaller oil field to the West are clearly visible, and the measured results are confirmed by several borehole logs in the field. Data courtesy of EMGS and Statoil Hydro.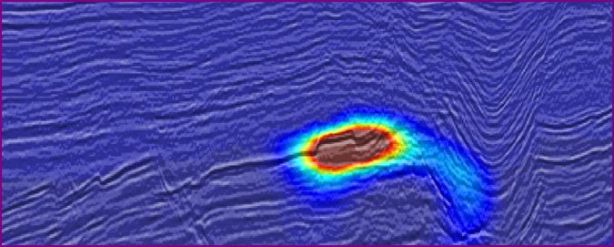 2a. Joint Interpretation of Seismic and CSEM Data: A structurally constrained CSEM inversion of the Luva reservoir is the starting point for the joint interpretation of seismic and CSEM data.

2b. Seismic inversion provides impedance sections which are used along with relevant well data to create a porosity map of the reservoir.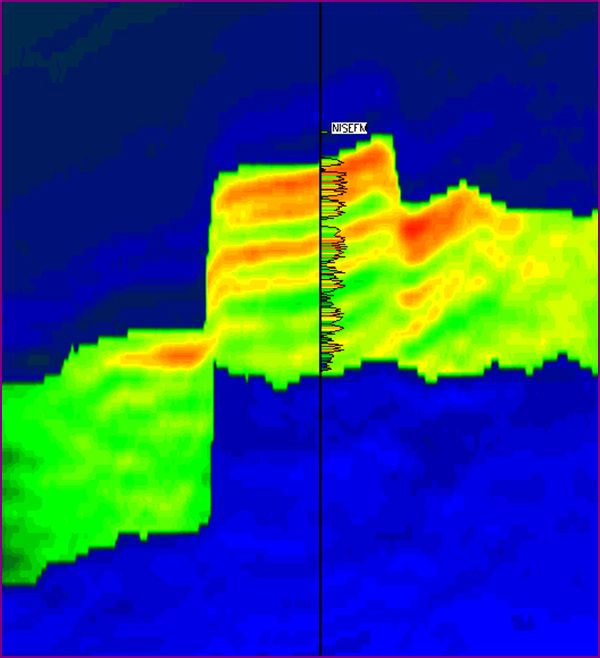 2c. The integration of seismic, CSEM and well data to quantify rock and fluid properties results in a map of gas volume (based on porosity and saturation), which could not be obtained from any dataset individually. (Image series courtesy of OHM-RSI)
When
September 8th, 2009 8:30 AM through 5:30 PM
Event Attachments
| | |
| --- | --- |
| Sponsorship Opportunities | |
Event Filter Informations