HGS CE Class: Petroleum Geology of Deep-Water Clastic (Turbidite) Depositional Systems
Important! Please do not create a duplicate login if you already have one. If you have forgotten your password click the "Request new password" tab above to reset your password.
This course will cover topics in both lecture and workshop format, including: deep-water transport and depositional processes; turbidite architectural elements---their geologic, petrophysical, geophysical and production performance characteristics; stacking patterns of deep-water elements; well log (including borehole image log) characteristics and interpretations; seismic interpretation; high resolution biostratigraphy; and basics of geological modeling of deep-water reservoirs. The use of outcrops as analogs to deep-water depositional systems is emphasized. Producing reservoirs from various locales will be discussed, with emphasis on the deep/sub-salt Gulf of Mexico. Exercises will involve hands-on experiences in the interpretation of well logs (including borehole image logs), well test, petrophysical and seismic data. During the past few years, and up to today, there is a growing body of public information on deep-water depositional systems; this course emphasizes and summarizes this latest information, in addition to unpublished studies.
NOTE: Preferred method of teaching this course is by participants following lectures with the CD book, which requires they bring a laptop to the course. Lab exercises then can also be completed on the computer rather than from paper copies.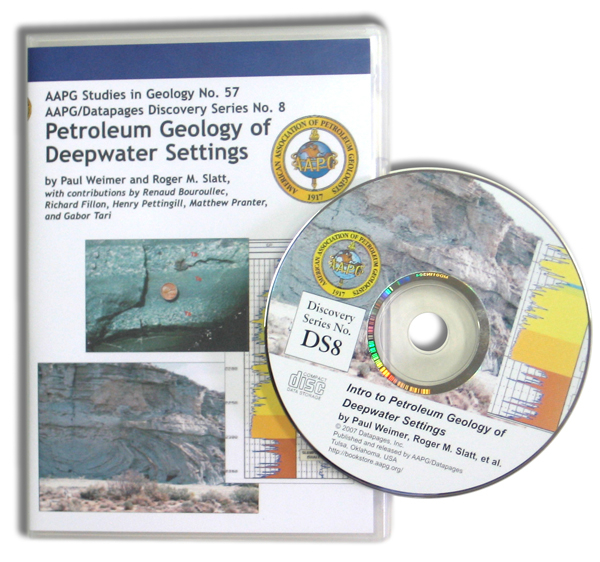 Introduction
The significance of deep-water deposits to global oil and gas exploration and production is presented along with the unique business challenges posed by these giant reservoirs. Distinction is made between the engineering and geological definitions of 'deep-water'. The major global areas of deep-water interest are provided along with current exploration and production statistics. Key questions related to both exploration and development are introduced that are addressed during the course. The principle deepwater reservoir types are outlined, along with static and dynamic properties which allow their identification.
Course Outline
Deep-Water Transport and Depositional Processes

Trap Types and Tectono-Stratigraphic Settings

Introduction to Turbidite Elements

Channel-Levve-Overbank Strata

Slide/Mass Transport/Injective Deposits

Stacking patterns of turbidite elements; sequence stratigraphy;

Seismic interpretation exercise

High frequency biostratigraphy

Geologic controls on reservoir quality; flow unit determination

Borehole image and dipmeter log analysis

Basics and applications of geologic modeling
When
April 30th, 2009 9:00 AM through 4:00 PM
Event Attachments
| | |
| --- | --- |
| Sponsorship Opportunities | |
Event Filter Informations