Tx Env & Eng Geol Field Trip: Daisetta Sinkhole
Important! Please do not create a duplicate login if you already have one. If you have forgotten your password click the "Request new password" tab above to reset your password.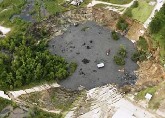 Seize this opportunity to see the now famous Daisetta Sinkhole and learn more about the potential mechanics of formation from leading geologic experts
Daisetta, located 60 miles northeast of Houston, is situated on the Hull Salt Dome. In 1969, 1981, and again in May 2008, sinkholes formed in the area. By the evening of the day after the 2008 sinkhole
formed, its growth had stabilized, but officials still saw it as a potential risk to the safety of city residents.
With dimensions of 600x525 feet and a maximum depth of 150 feet, this sinkhole has been the subject of
extensive research since May.
9:00 AM Registration at Hull-Daisetta High School Auditorium, 117 N. Main, Daisetta
Introduction to the Daisetta Sinkhole 9:30 Richard Howe and Dr. Carl Norman 9:50 Mark Kasmarek - USGS
10:10 Dr. Roy Dokka, LSU (GPS)
10:30 Dr. Carlos Aiken & Dr. John Oldow, UT Dallas (land-based LIDAR) 10:50 Break
11:10 Jeff Paine - BEG (gravity survey) 11:30 Robert Traylor, TCEQ, Ground water protection
12:00 Catered lunch
View sinkhole
1:00 After an introduction to the Daisetta Sinkhole, a walking and vehicle tour will follow. We will walk and carpool to the various sites and view the sinkhole, the two wells that blew out during the formation of the sinkhole, and other sinkholes in the area as time and access may allow. An AEG Texas section meeting will be held after the field trip
The Fine Print: Be prepared to walk approximately one-mile.
PDH's earned: 6 hours
HGS & AEG Member Fee: $40 per person
(Family members receive member rate as well.)
Non-Member Fee: $60 per person
Students: $20 - SPONSORS WELCOME!!
Registration Fee includes: Lunch and presentation materials.
When
January 17th, 2009 9:00 AM through 5:30 PM
Event Attachments
| | |
| --- | --- |
| Sponsorship Opportunities | |
Event Filter Informations
---