HGS Trans-Pecos Field Trip
Field Trip to Trans-Pecos Texas
RESCHEDULED - Feb. 20-Feb. 25
Field Trip Leaders
Dee Ann Cooper - University of Texas - Austin
Roger W. Cooper - Lamar University
Other co-leaders/guidebook authors include Tom Lehman (Texas Tech), Brian E. Lock (University of Louisiana-Lafayette), Bob Traylor (TCEQ), J.B. Stevens (Lamar University), M.S. Stevens (Lamar State College), Tom Alex (Big Bend National Park) and Betty Alex (Big Bend National Park)
Based on the recent, highly successful GSA 2008 Joint Annnual Meeting - Trans-Pecos Texas/Big Bend National Park Field Trip (see group photo below) with the addition of a night in the Davis Mountains and a visit to McDonald Observatory!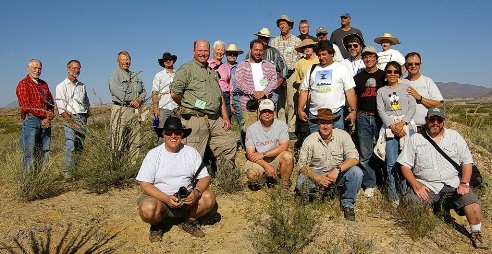 Big Bend National Park is located in Trans-Pecos, Texas (that part of Texas "west" of the Pecos River). Bounded on three sides by the Rio Grande River and Mexico, this high desert is the southernmost expression of the Rocky Mountains within the United States. For six days and five nights, field-trip participants will have a rare opportunity to enjoy the remote and scenic splendor of one of the less-visited, yet historic, parts of the United States (mercury mining, Pancho Villa, Comanches, Judge Roy Bean, border raids, Ft. Davis etc).
The group will travel via 15-passenger van from Houston to Del Rio on the first day and spend the second day examining and sampling the Buda, Boquillas and Del Rio Formations. The second night will include a "Star Party" at McDonald Observatory with dinner and a night's stay at the historic Prude Ranch in Ft. Davis.
After a scenic meander along the border into Big Bend Country through Marfa, Presidio and Lajitas, the third and fourth nights will be spent in cabins with kitchenettes in Terlingua/Study Butte, TX. Cowboy-style buffet around the campfire both nights! The days will be spent examining various Cretaceous and Tertiary sedimentary and igneous units including the Buda, Boquillas, Aguja and Javelina Formations within and in the immediate environs of Big Bend National Park. In addition, stops are scheduled at a variety of historic and scenic sites including Langtry (Judge Roy Bean's saloon), the Terlingua Ghost Town, Panther Junction (Big Bend National Park Headquarters), the Hot Springs and Boquillas canyon.

Depending on participants, there will also be an opportunity to tour the Castolon cavalry outpost, Santa Elena Canyon and the Chisos Mountains. On the trip back a stop will be made at Dog Canyon and Persimmon Gap with stops and sampling opportunities at the Paleozoic Maravillas, Caballos, and Tesnus Formations in the Marathon Basin.
The Texas Board of Professional Geoscientists has authorized a 30 PDH certification for participants on this trip! $596 per-person cost includes all transportation, all lodging (double occupancy), three full breakfasts, two continental breakfasts, four lunches, three dinners, field guide and all entry fees. Registration is limited to 24 persons maximum!
Contact Dee Ann Cooper at deeanncooper@yahoo.com for more information.
See the HGS webpage "
Events Photo Albums
" for photographs from the
GSA Joint Annual Meeting Field Trip
!
When
February 20th, 2009 9:00 AM through February 25th, 2009 5:00 PM
Event Attachments
| | |
| --- | --- |
| Sponsorship Opportunities | |
Event Filter Informations