NeoGeos Central Texas Field Trip
Important! Please do not create a duplicate login if you already have one. If you have forgotten your password click the "Request new password" tab above to reset your password.
2008 NeoGeos Central Texas Field Trip
April 5-6, 2008
SOLD OUT
Partially sponsored by
PetroSkills
Field Guide, Transportation (via chartered bus), Lodging, Saturday morning meal and lunches (2) included in price. Saturday evening meal is participant's responsibility.



This event is hosted by the NeoGeos, but opened to all HGS members.

Who should attend??
- Those new to Texas or new to Geology (or both)
- Those wanting a refresher for basic field geology
- Those with an interest in central Texas geology
- Those interested in networking and meeting others within our organization
- Those who have a craving for Cooper's BBQ or
- Those that just want an excuse to get out of the car to check out the roadcuts

Central Texas Field Trip Itinerary
(with a few pics from last year)

Leave Houston Saturday, April 5th

- Stop 1: Bastrop - Brazos River
View and discuss Texas coastal/fluvial deposition, including Eocene and Quaternary formations.

- Stop 2: Austin - Mt. Bonell
Discussion of the Balcones fault zone

- Stop 3: Austin - 360/2244 Road Cut
Discussion of Cretaceous Walnut Fm., including specifics on carbonate deposition, Milankovitch cycles, sequence stratigraphy

- Stop 4: Highway 71 @ Hoover Point Scenic Overlook
Approximately 10 miles west of Marble Falls, along FM-1431

- Stop 5: Inks Lake
Observation and discussion of the Valley Spring Gneiss and Packsaddle Schist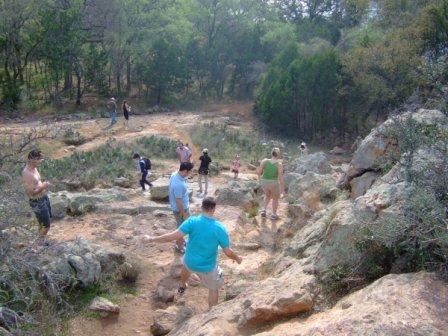 - Stop 6: Longhorn Cavern State Park, Burnet, TX.
Time will not allow us to take a formal tour of the caverns, but you will be able to browse the gift shops.

OVERNIGHT in Fredericksburg, TX

Sunday, April 6th
- Stop 7: Enchanted Rock State Natural Area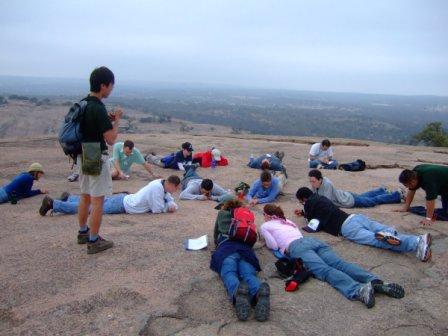 -
Stop 8:
Llanite Dike
-
Stop 9:
Wilbern Fm. and Hickory Sandstone Fm.
-
Stop 10:
Packsaddle Mountain, 5 miles southwest of Kingsland in eastern Llano County
Return to Houston
Visit a web-page of last year's trip
here
, to see the outcrops and adventures we had.
Photographs of Tom Miskelly's previous trip with San Jacinto College are
here
.


It will be an entertaining and informative trip
I hope to see many of you there.
For additional information, or to discuss the trip, visit our
message board
.
When
April 5th, 2008 7:30 AM through April 6th, 2008 7:30 PM
Event Attachments
| | |
| --- | --- |
| Sponsorship Opportunities | |
Event Filter Informations