HGS Grand Canyon Field Trip 2020
2020 HGS Grand Canyon Field Trip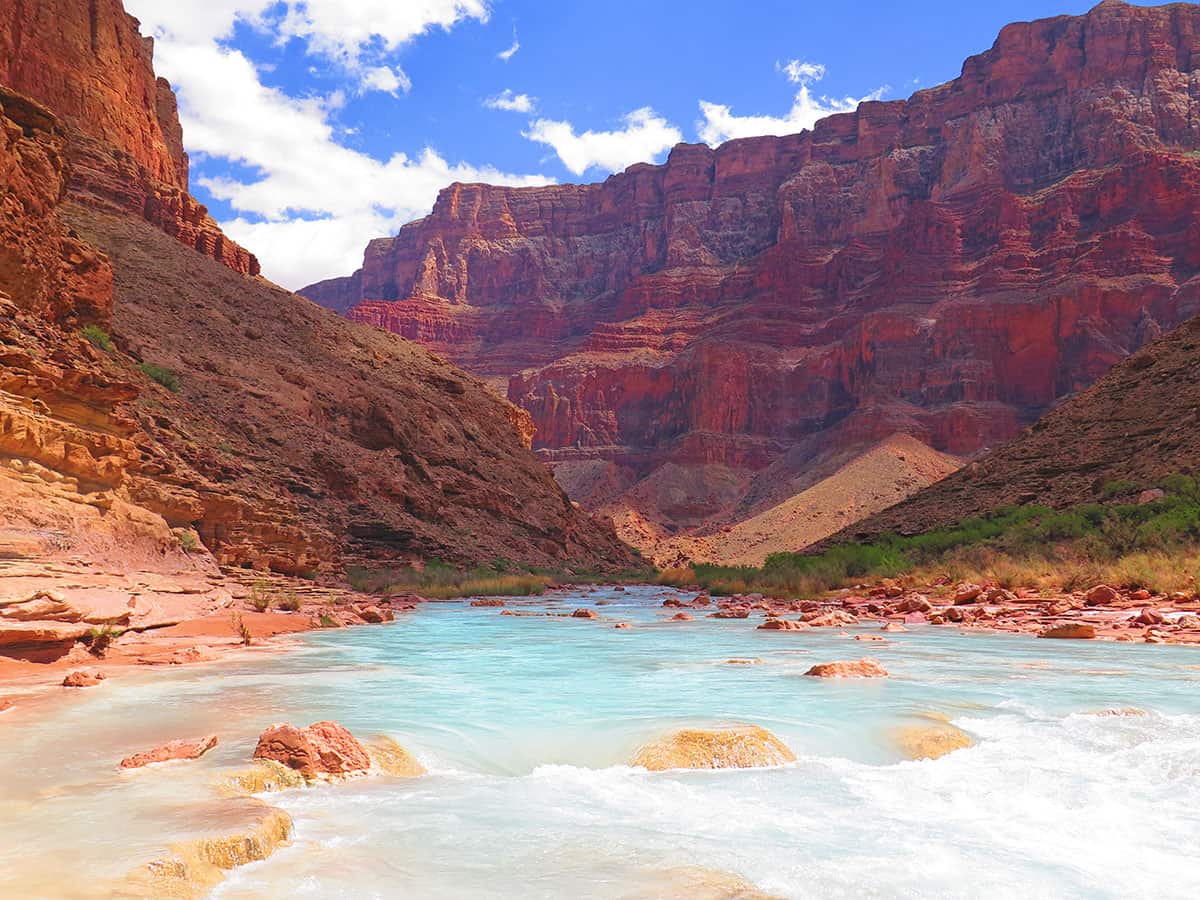 Please join us on a special "Journey Through Time" as once again the HGS offers its Grand Canyon field trip. We will float the Colorado River on motorized rafts, providing us the opportunity to see and discuss all the classic geology so beautifully portrayed here, from Precambrian strata to modern processes which continue to shape the canyon. Geological concepts are introduced and magnificently illustrated in the Canyon in such a way that the geology comes alive for everyone. We will run rapids, take several short hikes, play in some exciting side creeks, eat like royalty and sleep under the stars. Your river guides and gear are supplied by Hatch River Expeditions, the most experienced outfitter serving the Grand Canyon. Past participants have stated this was the best geologic trip they ever took and many have brought one or more of their family along to share this incredible experience with them.
While this is not an overly strenuous trip, participants must be in good enough physical condition to climb in and out of the rafts. We will have some hiking each day, the longest being six miles, and several hikes require some scrambling. Any of the hikes are optional, but I encourage you to take as many as you can to fully experience this extraordinary trip.
The trip joins in Las Vegas on June 7, 2020. We provide transportation from there to Marble Canyon and the first night in Cliff Dwellers Lodge, food and drink for 8 days/7 nights on the river, a helicopter ride to Bar 10 Ranch the last day and the flight from there back to Las Vegas. Costs not covered include round-trip airfare to Las Vegas, dinner and breakfast in Marble Canyon, tips for our river guides, any souvenirs purchased at Phantom Ranch or Bar 10 Ranch, and anything you might spend in Vegas if you fly in early or stay on. Optionally, you may join us in Marble Canyon and Hatch will arrange a return flight to there at the end.

Trip Leader: Steve Earle
Steve is a Past-President of HGS and also served as Editor. He received his BS in Geoscience from the University of Arizona. While there, he spent as much of his free time as possible hiking the trails of the Grand Canyon. Steve is passionate about the Canyon and loves sharing that with anyone. After a 40-year career as an oil and gas explorationist, he is now retired and lives in southwest Colorado.
Fees:
Deposit- $500.00
Final Payment- $3,200.00 (due by December 15, 2019)
total trip cost (member + non-member)- $3,700.00
*Please email Jacky Jordan at jajordan@hgs.org or call the HGS office to reserve your spot- only 29 spaces for the trip!!*
Grand Canyon Field Trip Cancellation Policy: If a registrant must cancel his/her reservation more than150 days before the trip, the registrant will be refunded the difference between what has been paid less the $500 non-refundable deposit (Hatch policy for Grand Canyon Field Trip) and a 5%processingg fee. Should the registrant's cancellation drop the HGS below the required minimum headcount, then the registrant is responsible for the entire cost unless persons on the waiting list agree to participate and raise HGS above the minimum required headcount. If a registrant must cancel his/her reservation for the Grand Canyon Field Trip less than 150 days prior to the trip, no refunds will be made and the registrant will forfeit any submitted funds to Hatch River Expeditions.
When
June 7th, 2020 10:00 AM through June 15th, 2020 3:00 PM
Event Attachments
| | |
| --- | --- |
| Sponsorship Opportunities | |
Event Filter Informations
---