A World of Culture Oil and Golf: A compelling business journey around the world; about challenges, life and events of the time
November 8th NeoGeos Happy Hour Speaker, author David Allard
A World of Culture Oil and Golf
A compelling business journey around the world; about challenges, life and events of the time
Learn more about David by visiting http://davidallardauthor.com/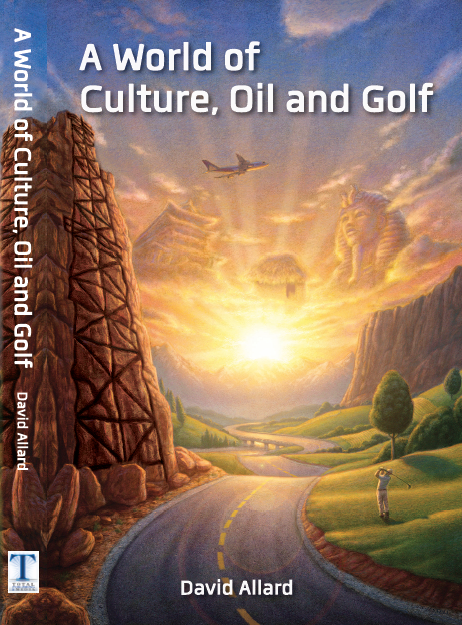 David Allard, author of "A World of Culture Oil and Golf" - will speak Thursday, November 8, 2018 at NettBar. His book spans more than 20 years of international exploration in more than 20 countries providing a variety of stories of business and other interests. This insightful geologist looks at the oil and gas business with an ability to provide interesting descriptions of the people and places he has encountered.
The presentation will cover a variety of exploration and development plays along with tales of local color, history, above and below ground risks based on first hand experiences. International exploration discoveries are an exciting moment, but are only one step on the long road to profitability. Areas to be discussed include but are not limited to: South America, Central Africa, Egypt, the UK, Russia and the Far East.
As a professional petroleum geologist, David Allard has had a career of over 35 years working with both major and independent companies, playing a part in many new field discoveries, writing for publication and making public presentations. As one book reviewer stated: "His scientific approach to geology is mirrored by his sincere interest in what's above ground. He writes and behaves as the friendly American who appreciates and respects cultural differences, the local history and people." The book is based on journals compiled over a 20 plus year period during a variety of assignments, business trips and overseas postings with the family, while working internationally as well as inside the U.S.
+++
David Allard worked for over 35 years as a petroleum geologist and from 1988 to 2006 worked internationally in more than 20 countries, including living with his family in Egypt and Scotland. He recently published a nonfiction book: "A World of Culture Oil and Golf" that covers a 20 year period of international and domestic USA business and historical aspects from the perspective of a staff geologist and in recent years as a manager. David has had a varied career involving many new field discoveries, publications and public presentations. Beginning in 2017, book marketing efforts include speaking events as a subject matter expert in petroleum geology and international experiences. He currently lives in Denver and still loves golf.David Allard Biography
"A World of Culture Oil and Golf" is a fascinating look into the global oil business and what it's like to be an insider traveling the world and navigating the amazing array of locales and personalities." David W. Miller II, author of Hard Knocks MBA: The Search for Business Success and Job Satisfaction
David Allard presents interesting stories from far flung parts of the world in his book A World of Culture Oil and Golf.
World cultures; people and places tourists do not typically see

Oil business risk and wildcat wells

Rebels, jungle, desert and offshore

Golf in strange places; even if your caddy speaks no English
When
November 8th, 2018 6:00 PM through 8:00 PM
Location
NettBar




4504 Nett St




Houston

,

TX

77007




United States
Event Attachments
| | |
| --- | --- |
| Sponsorship Opportunities | |
Event Filter Informations
---