Joint HGS GSH Dinner Meeting:SNE and FAN World Class Discoveries Offshore Senegal Herald a Major New Hydrocarbon Province
Monday, October 8, 2018
ROOM • Norris Conference Center • 816 Town and Country Blvd #210
Site Map • Floor Plan
Social Hour 5:30–6:30 pm
Dinner 6:30–7:30 pm, Presentation 7:30- 9:00 pm
Member/Emeritus/ Honorary Life- $40.00 Non-Member- $45.00 Student- $15.00
WALKUPS: $45.00
To guarantee a seat, you must pre-register on the HGS website and pay with a credit card. You may walk up and pay at the door if extra seats are available. Please cancel by phone or email within 24 hours before the event for a refund. Online & pre-registration closes Monday, October 8, at 5:00 a.m.
Speaker: Igor Effimoff
Company: Far Unlimited

SNE and FAN World Class Discoveries Offshore Senegal Herald a Major New Hydrocarbon Province
Historically, interest in MSGBC (Mauritania-Senegal-Gambia-Bissau-Conakry) had been limited and Senegal had been largely overlooked.
In early 2006, FAR Limited acquired an interest from then operator Hunt Oil in the Rufisque Offshore, Sangomar Offshore and Sangomar Deep Offshore blocks in Senegal. A large 2000km2 3D seismic survey was acquired but Hunt Oil exited the area shortly thereafter, leaving FAR as operator with 90% equity along with Petrosen, the national oil company of Senegal (10%).
In 2012, a detailed mapping and prospect generation exercise was carried out by FAR, resulting in an updated prospect and lead portfolio, which was taken to the farm-out market. Farm-out deals were concluded with Cairn Energy (operator; 40%), ConocoPhillips (35%), FAR retaining 15% and Petrosen 10%.
Two initial exploratory wells were drilled, back to back, on two separate plays in 2014. FAN-1, the first ever deepwater well in Senegal was drilled in 1,427m water depth, targeting stacked Cretaceous sandstone reservoirs in stratigraphic traps. The well was drilled to a total depth of 4927m with excellent oil indications over a vertical interval of over 500m and no oil-water contacts encountered. Several distinct oil types were sampled ranging from 28° API to 41° API. The main reservoir sections are thinly bedded, yielding approximately 29m of net oil pay in Albian sandstones. The FAN-1 discovery is larger than the pre-drill estimate and audited 2C recoverable resources are 198mmbbls. In addition to discovering oil, FAN-1 encountered a thick interval of excellent quality oil-prone source rocks.
SNE-1 in 1,100m water depth, was drilled to a total depth of ~3,000m. The well targeted Cretaceous sandstone reservoirs in a combined structural and stratigraphic trap. Oil and gas were encountered at the primary objective in excellent quality Albian sandstones with a gross 96m oil column and net oil pay of 36m. High quality 32° API oil was sampled, together with gas and water. Early appraisal results confirmed the continuity of the main oil and gas columns and a DST of the first appraisal well (SNE-2) flowed oil at a constrained rate of 8000mmbbls per day. Audited 2C recoverable resources are 641mmbbls. These figures are about four-fold larger than the pre-drill estimate.
A second FAN type feature was successfully drilled by FAN South-1. As such, a total of eleven wells have been drilled on the blocks, all of which encountered hydrocarbons. First oil from SNE is expected between 2021 and 2023.
The story is evolving but these exceptional exploration results have confirmed the Senegal offshore as a new major oil province.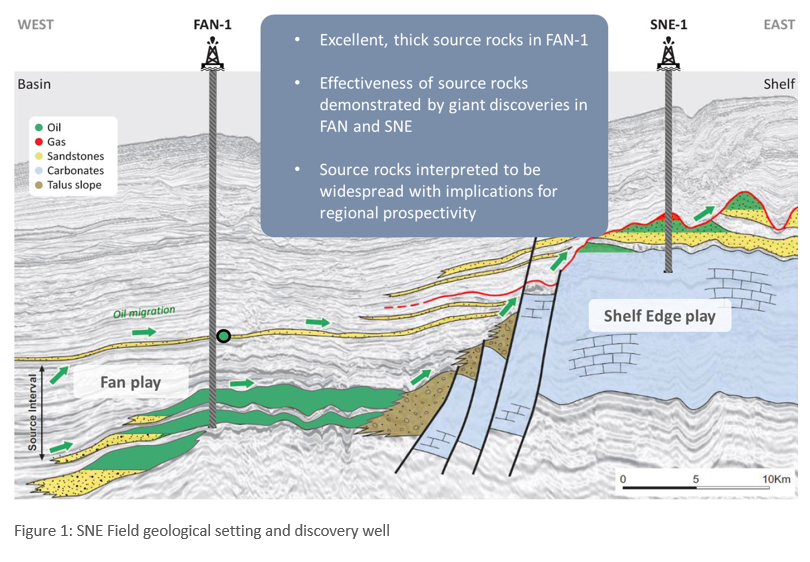 Igor Effimoff has over 45 years of upstream technical and managerial experience internationally and domestically. He is founder and principal of E&P Consulting, a firm providing geological, geophysical and engineering consulting services to evaluate investment and business development opportunities for various international and domestic clients. FAR has been a client since 2005. Previously, Dr. Effimoff served as Chief Operating Officer for Teton Petroleum Company from 2002 through 2005 and President of Pennzoil Caspian Corporation from 1996 through 2001. He served on the board of Harvest Natural Resources, Inc. and TruStar Petroleum Corporation, as well as several nonprofit boards. He started his career with Shell Oil. Dr. Effimoff has a doctorate degree in geology from the University of Cincinnati and is a graduate of the Harvard Business School Advanced Management Program. He is a fellow of the American Association of Petroleum Geology, Geological Society of America, Society of Exploration Geophysicists, Society of Petroleum Engineers and the Houston Geological Society.
---
Instructions to Norris Conf. Center:
The Norris Conference Center is on the Second (2nd) Floor, and cannot be seen from the street. From Town and Country Blvd, turn west at Plaza Way and go past "Kendra Scott" store to STOP sign. Turn right = North and go to Level 3 of the parking structure.The parking structure can also be reached from the northbound Beltway 8 frontage road. Turn into the driveway that is 0.33 mi. north of Kimberley Ln., just before the Amegy Bank sign.
When
October 8th, 2018 5:30 PM through 9:00 PM
Location
Norris Conference Center




816 Town & Country Blvd., Suite 210




Houston

,

TX

77024




United States
Event Fee(s)
| | |
| --- | --- |
| HGS member | $ 40.00 |
| Non-member | $ 45.00 |
| Emeritus/Honorary Life | $ 40.00 |
| Student | $ 15.00 |
Event Attachments
| | |
| --- | --- |
| Sponsorship Opportunities | |
Event Contact
| | |
| --- | --- |
| contact Email | rwiener@sbcglobal.net |
Event Filter Informations
| | |
| --- | --- |
| Event Owner | General Dinner |
---