HGS International Dinner- Towards a Full Tectonostratigraphic Model for the South Atlantic from Conjugate Margin Data: Spanning the End-Member Break-Up Models
Monday, September 10, 2018
ROOM • Norris Conference Center • 816 Town and Country Blvd #210
Site Map • Floor Plan
Social Hour 5:30–6:30 pm
Dinner 6:30–7:30 pm, Presentation 7:30- 9:00 pm
Member/Emeritus/ Honorary Life- $40.00 Non-Member- $45.00 Student- $15.00
WALKUPS: $45.00
To guarantee a seat, you must pre-register on the HGS website and pay with a credit card. You may walk up and pay at the door if extra seats are available. Please cancel by phone or email within 24 hours before the event for a refund. Online & pre-registration closes Monday, September 10, at 5:00 a.m.
Speaker: Ken McDermott, Ion Geophysical
Towards a Full Tectonostratigraphic Model for the South Atlantic from Conjugate Margin Data: Spanning the End-Member Break-Up Models
Introduction
The geological history and petroleum prospectivity of rifted continental margins are often considered independently with workers generally focussed on an individual margin or more often a single basin within that margin. This is, in part, due to a paucity of available high-quality conjugate reflection seismic profiles. Here, ION's mega-regional South Atlantic conjugate BasinSPANTM reflection seismic dataset is used to reconstruct the margins, considering them as they once were; a single basin with a shared geological history. Observations from these seismic from both sides of the South Atlantic basin provide new and important insights into the principle mechanisms involved in continental break-up, including variations in the amounts of magmatism and dynamic uplift. The implications of the breakup mechanisms will then be demonstrated in respect of the stratigraphic development and petroleum prospectivity of the margins.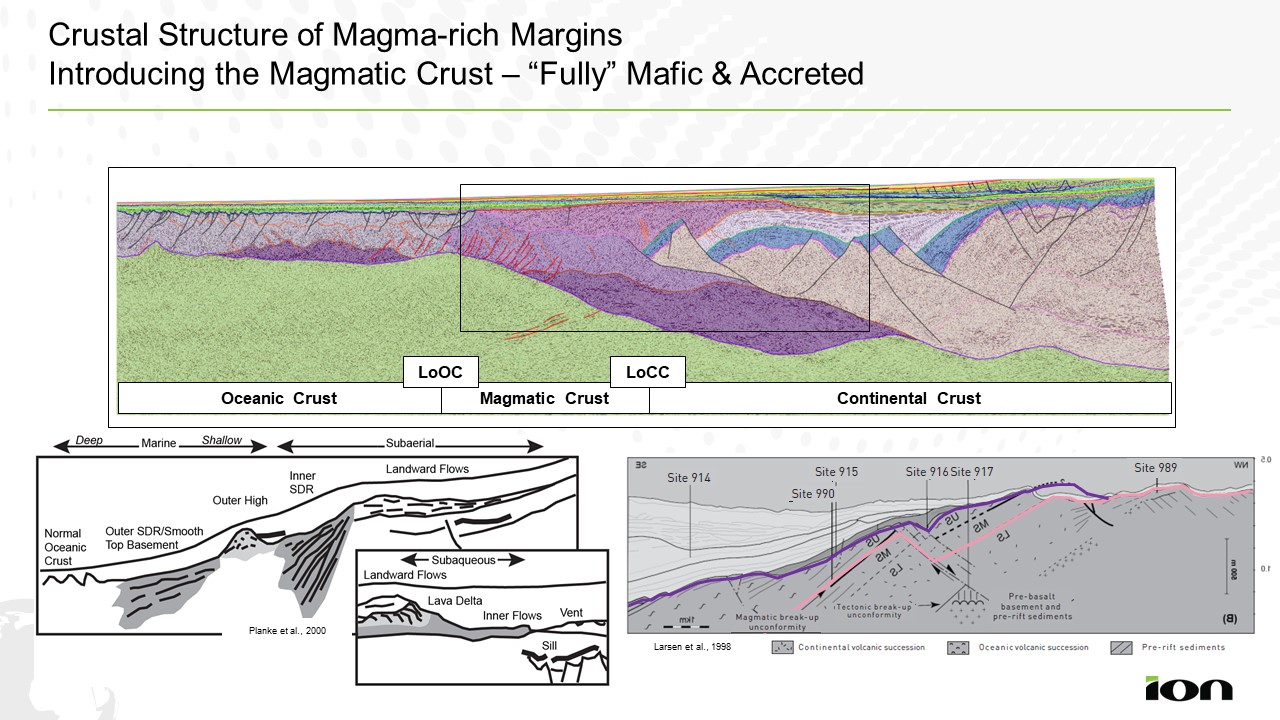 By investigating such a large area and data from both margins, we consider also the classification of rifted margins and whether the traditional definitions remain valuable. Rifted margins are often considered in terms of end-members; magma-poor, and magma-rich. Investigations into magma-poor break-up processes (crustal hyper-extension, partial serpentinisation and exhumation of sub-continental mantle) have focused on the North Atlantic (e.g. Iberia – Newfoundland Rift System) and Tethyan rifted margins preserved in the Alps[1,2]. Similarly, the processes of magma-rich breakup (continental crust "replaced" by mafic crust through volumous magmatic addition) and its characteristic SDR sequences have been studied on the North and South Atlantic margins, and onshore Greenland and Mozambique [3,4,5,6]. However, it is becoming clear that in viewing margins as end-members, key developmental stages for many rifted margins are unaccounted for, as is the case for the South Atlantic. Instead, we should consider the rifted margins as forming a spectrum with variations in time, space and temperature/magma supply being considered. This consideration defines the potential for a new class of margin, the hybrid-rifted margin [7].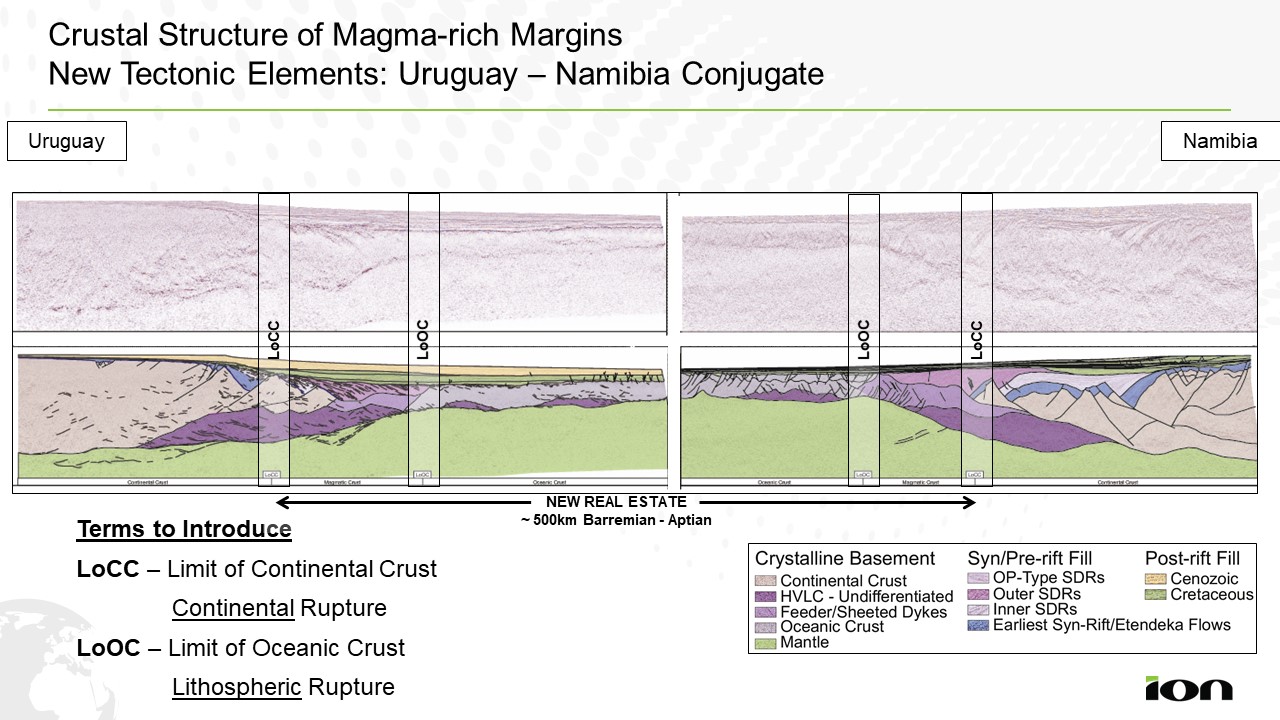 The conjugate margins of the austral South Atlantic are classically magma-rich with well-developed examples of all typical volcanostratigraphic elements observed on magma-rich margins globally: stretched continental crust, inner and outer SDR packages, outer high, a zone of high-velocity lower crust, and relatively thick early oceanic crust[4,5,8]. Further north however, in the Central portion of the South Atlantic, the situation changes dramatically and elements of both the end-member magma-poor and magma-rich margins are observed at different times and locations. We consider how the development of the margins changes in space and time.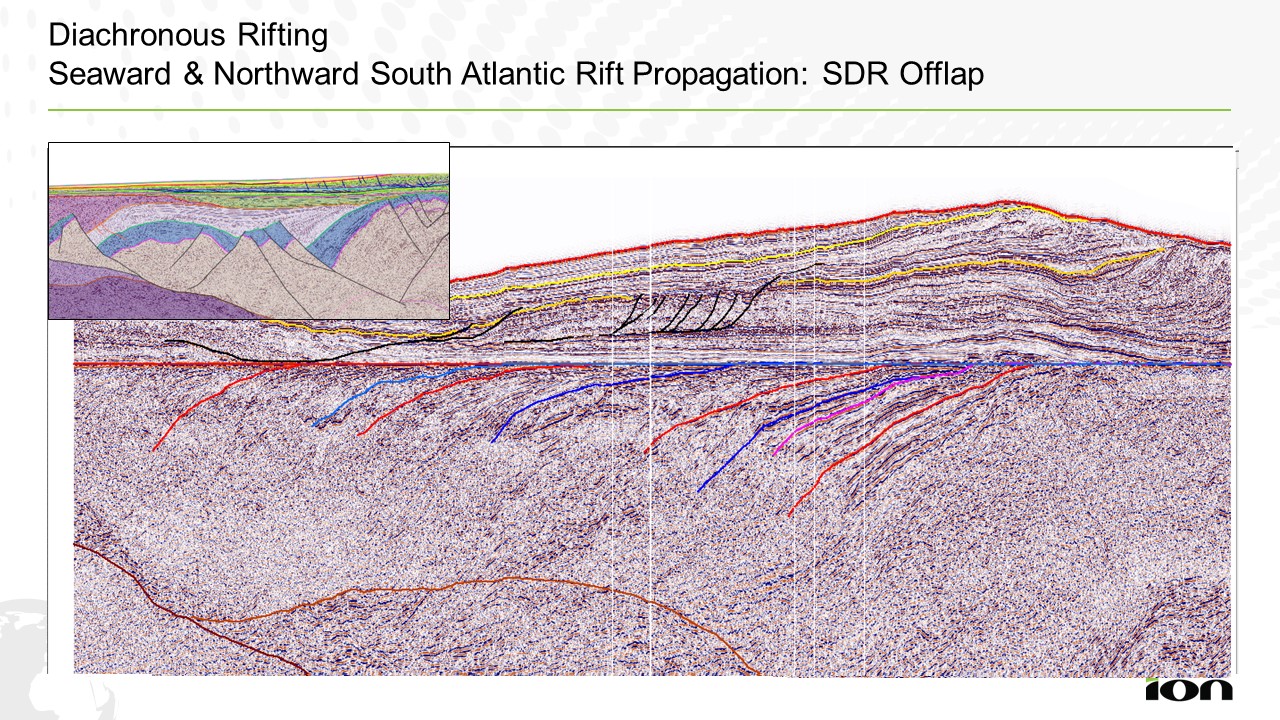 Magmatism & Tectonostratigraphy
Through well-correlated stratigraphic and crustal structure interpretation, a new tectonostratigraphic model for the formation of the South Atlantic is developed. The model delineates crustal domains along the margins relating to mechanical and magmatic continental stretching and break-up, highlighting diachronous rifting and partitioning of extensional strain across the margin. The model consists of five distinct crustal domains (continental, hyper-extended, magmatic, oceanic and oceanic plateau), and two important crustal boundaries; the limit of continental crust, and limit of oceanic crust.
Our model also describes strongly diachronous post-rift and drift phase subsidence and highlights the role the Walvis Ridge – Rio Grande Rise (WRRGR) system played in the separation of the central and austral segments of the South Atlantic Ocean. Detailed analysis of subsidence patterns on both conjugate margins, indicate that for much of the Lower Cretaceous the WRRGR system formed a barrier which totally separated the austral and central segments of the South Atlantic basin. However, during Aptian times renewed extension localized on the African Margin, and amagmatic stretching of the WRRGR led to the formation of what we term the "Walvis Straits". Once the straits were formed seawater had a pathway to flow northwards and evaporate, contributing to the development of the Great South Atlantic Salt Basin from Angola to Gabon.
Our interpretation reveals, in places, a magma-poor rift beneath the sag-basin transitioning to magma-rich oceanwards. Mapping of the pre-salt sag sequences shows oceanward migration of extension forcing progressively younger strata to become effective syn-rift while their chronostratigraphically equivalents thermally subside (effective post-rift) continentward. We observe an outer high (magmatic construction) at the limit of oceanic crust forming a barrier to autochthonous salt suggesting the switch from magma-poor to a more magma-rich rifting exacted a fundamental control on the boundaries to the S. Atlantic Salt Basin.
The data also show how the central South Atlantic cannot be described in end-member terms, but instead should be considered as a hybrid-rifted margin.
Conclusions
We conclude that a model invoking hybrid rifting is most appropriate to describe the Central South Atlantic and show that how it has led to significant implications for subsidence and heatflow through time. Understanding the interplay between tectonics and sedimentation across the margins through time is therefore key to reducing exploration risk in the central South Atlantic.
The observations and processes described here underpin the development of a regional petroleum systems model, allowing prediction of regional heatflow through time and space as well the likely location of source and reservoir lithologies across the entire austral South Atlantic Basin reducing exploration uncertainty in the continued search for commercial hydrocarbons.
[1] Peron-Pinvidic, G., Manatschal, G., Minshull, T. A., & Sawyer, D. S. 2007. Teconosedimentary evolution of the deep Iberia-Newfoundland margins:Evidence for a complex breakup history. Teconics. v. 26. TC2011.
[2] Manatschal, G. 2004. New models for the evolution of magma-poor rifted margins based on a review of data and concepts from West Iberia and the Apls. Int. J. Sci. (Geol Rundsch). 93. pp. 432 – 466.
[3] Geoffroy, L. 2005. Volcanic passive margins.C. R. Geoscience. v. 337. Pp. 1395- 1408
[4] Planke, S., Symonds, P.A., Alvestad, E., Skogseid, J. 2000. Seismic volcanostratigraphy of large-volume basaltic extrusive compleses on rifted margins. Journal of Geophysical Research, v. 105, no. B8, pp. 19,335 – 19,351.
[5]Barton, A. J., White, R.S. 1997. Crustal Structure of Edoras Bank continental margin and mantle thermal anomalies beneath the North Atlantic. Journal of Geophysical Research, v. 102, n. B2, pp. 3,109 – 3,129.
[6] Paton, D., Pindell, J., McDermott, K., Bellingham, P., & Horn, B. 2017. Evolution of seaward-dipping reflectors at the onset of oceanic crust formation at volcanic passive margins: Insights from the South Atlantic. Geology. 45. 5. Pp. 439 – 442.
[7] Doran, H., & Manatschal, G. 2017. Breaking up is never easy. Geoexpro. v. 14. No. 3. Pp. 58 – 61.
[8] McDermott, K., Gillbard, E., Clarke, N. 2015. From Basalt to Skeletons – the 200 million-year history of the Namibian margin uncovered by new seismic data. First Break, vol. 33, pp. 77 - 85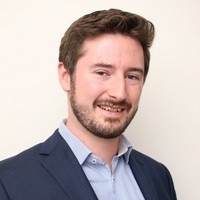 Ken McDermott was awarded his Ph. D from the University of Birmingham in 2013 for his work on crustal hyper-extension at magma-poor rifted margins; and a B. Sc in Geology from University College Dublin in 2007. From 2012 – 2014 Ken held a postdoctoral research position at University College Dublin, working on the tectonostratigraphy of the North Atlantic. Since 2014, Ken has held the position of Structural Geologist at ION's E & P Advisor service and is to a large extent focussed on the South Atlantic.
Ken has authored and co-authored numerous papers in internationally regarded peer-reviewed journals focussed on the formation, crustal structure, and tectonostratigraphy of continental margins around the world, and often speaks at national and international industry and academic conferences. Ken is a member of the PESGB and a fellow of the Geological Society of London.
Vendor's Corner

Geochemical Solutions Int'l (GSI) and DIGs are pleased to co-sponsor this introduction to the 2018 HGS-PESGB Africa conference. DIGs will offer copies of an expanded abstract of their conference talk, "Tracing the West and Central African Rift and Shear Systems offshore onto oceanic crust: a 'rolling' triple junction". GSI will introduce their 2018 studies of oils and source rocks of Brazil's Greater Campos and Sergipe basins and provide abstracts of their talks with DIGs ("To deep water Sergipe-Alagoas Basin and beyond: projections and cautions from recent drilling and geochemical analysis") for September's IBP conference in Rio and ("Genetic Comparison of Crude Oils from West Africa and South American Conjugate Basins") at the November ALAGO conference in Salvador.
Geochemical Solutions is represented by Craig Schiefelbein who trained as a geochemist with Cities Service and Conoco and a series of geochem service companies, gaining familiarity with more than 7500 oil samples from around the globe. Co-founder of Geochemical Solutions International (GSI) in 1998, he has developed a range of basin studies based on oils and related geochemical data points from the entire Brazilian margin. GSI provides interpretation QC; proprietary interpretation services; laboratory and acquisition oversight; and contributes to non-exclusive studies by related service companies. http://www.geochemsol.com/
Dickson International Geosciences (DIGs) is represented by William Dickson who began his career working the frontier basins of Canada's margins. A continued thread of international new venture work on six continents connects his time with major and independent oilcos through the 1998 founding of his consultancy DIGs. He has authored and contributed to papers on aspects of South Atlantic and SE Asian geology. He continues to develop multi-disciplinary petroleum systems evaluations with contributions from a range of associated companies specializing in geochemistry, structural geology, potential fields, remote sensing and seismic interpretation. http://digsgeo.com/
---
Instructions to Norris Conf. Center:
The Norris Conference Center is on the Second (2nd) Floor, and cannot be seen from the street. From Town and Country Blvd, turn west at Plaza Way and go past "Kendra Scott" store to STOP sign. Turn right = North and go to Level 3 of the parking structure.The parking structure can also be reached from the northbound Beltway 8 frontage road. Turn into the driveway that is 0.33 mi. north of Kimberley Ln., just before the Amegy Bank sign.
When
September 10th, 2018 5:30 PM through 8:30 PM
Location
Norris Conference Center




816 Town & Country Blvd., Suite 210




Houston

,

TX

77024




United States
Event Fee(s)
| | |
| --- | --- |
| HGS member | $ 40.00 |
| Non-member | $ 45.00 |
| Emeritus/Honorary Life | $ 40.00 |
| Student | $ 15.00 |
Event Attachments
| | |
| --- | --- |
| Sponsorship Opportunities | |
Event Filter Informations
| | |
| --- | --- |
| Event Owner | International |
---