HGS International Dinner - Tectonic Forcing and Sedimentary Cyclicity: Impact on Petroleum System Elements
Monday, March 26, 2017
Live Oak Room • Norris Conference Center • 816 Town and Country Blvd #210
Site Map • Floor Plan
Social Hour 5:30–6:30 pm
Dinner 6:30–7:30 pm, Presentation 7:30- 9:00 pm
Member/Emeritus/Honorary Life: $40.00
Student: $15.00
Non-Member: $45.00 WALKSUPS: $45.00
To guarantee a seat, you must pre-register on the HGS website and pay with a credit card. You may walk up and pay at the door if extra seats are available. Please cancel by phone or email within 24 hours before the event for a refund. Online & pre-registration closes Monday, March 26, at 5:00 a.m.
Speaker: Kurt Rudolph
Company: Adjunct Professor at Rice University & University of Houston
Tectonic Forcing and Sedimentary Cyclicity: Impact on Petroleum System Elements
Sequence stratigraphy is an observationally-based method for interpreting sedimentary cyclicity. Stacking patterns of progradation, retrogradation, aggradation, and degradation is related to the balance of sedimentary accommodation versus sediment supply. While often related to eustasy, accommodation is also controlled by tectono-subsidence. Based on over 50 global examples, regional subsidence and uplift rates are usually greater than rates of sea level rise/fall for durations greater than about one million years. Thus, in many basins, the larger scale patterns of sedimentary cyclicity are related to tectonics.
Another important aspect of active tectonics is that, unlike eustasy, it is spatially variable. For example, while basins may be subsiding, adjacent areas may be uplifting (such as rift flanks in extensional basins or orogenic belts in foreland basins). This often drives basin differentiation, variations in sediment supply, development of silling/interior drainage and steepening of the depositional profile.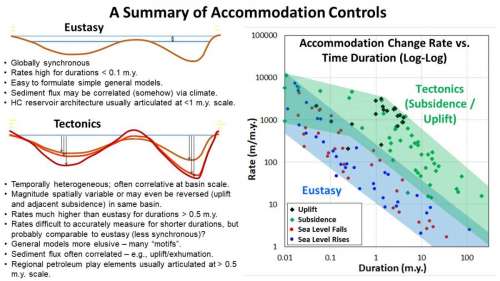 Tectono-subsidence controls on large sequence development and petroleum system play elements are illustrated by examples in the Western Interior U.S., North Slope Alaska, Western Siberia Basin, and East Natuna-Sarawak Basin.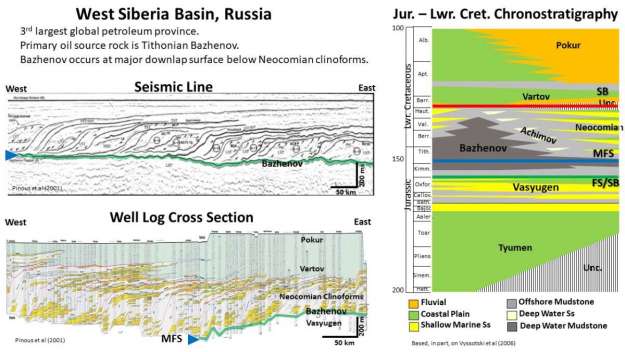 Many of the world's most important petroleum source rocks (and regional seals) are associated with tectonic events which differentiated the basin and increased the rate of subsidence. This drives major transgressions (leading to condensed intervals/concentration of organic matter), steepening of the profile (enhancing upwelling/productivity), and basin restriction (enhancing the potential for anoxia/preservation). Another important aspect is tectonic steepening of the depositional profile, due to differential subsidence/uplift. This enhances the potential for submarine fan development, especially as subsidence wanes. Periods of decreased subsidence (or uplift) are associated with strongly progradational/degradational stratigraphic intervals. Such tectonic lowstands are a means of bypassing sands into the basin and are therefore preferentially reservoir-prone.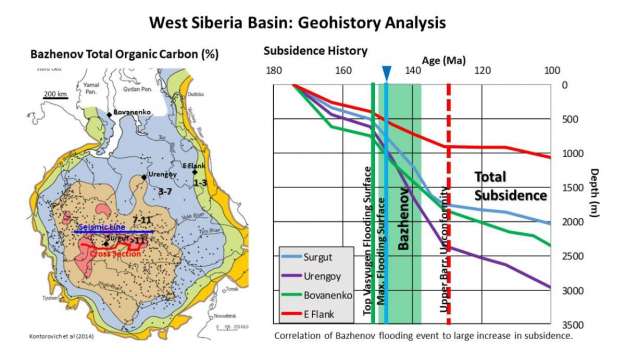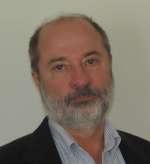 Kurt Rudolph received a B.S. in Geology from Rensselaer Polytechnic Institute and an M.A. in Geology from the University of Texas. He began his career as an Exploration Geologist with Unocal in 1978, then joined Exxon Production Research in 1981. Kurt held a variety of positions in Exxon/ExxonMobil, including Chief Geoscientist from 2002-2015, retiring in April 2015. He was a co-recipient of the Wallace Pratt Award for the best AAPG Bulletin paper for 1992, was an AAPG-SEG Distinguished Lecturer for 2001-2002, was the AAPG Michael Halbouty Lecturer for 2007, and received best paper award from the Rock Mountain Association of Geologists in 2015. He is currently an Adjunct Professor at Rice University and the University of Houston. His interests include stratigraphy, seismic interpretation, and regional geology.
---
Vendor Corner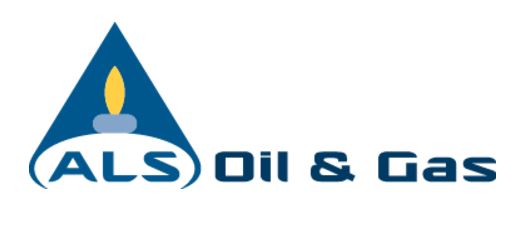 ALS Oil & Gas Laboratories, a wholly owned subsidiary of ALS Global (wwwalsglobal.com,) is an emergent international force providing beginning-to-end wellsite and laboratory services including core processing, preservation, stabilization and transportation. ALS provides wellsite data analysis and paleontological services, sample management, whole core analysis, paleontological and geochemical preparation and biostratigraphic, mineralogical, geochemical and petrographic analyses. Our extensive and evolving services and product portfolio, combined with ALS' established international analytical expertise and global reach, provides world-class solutions, no matter how complex your reservoir is.
https://www.alsglobal.com/us/services-and-products/oil-and-gas

Drillinginfo is the leading energy SaaS and data analytics platform that provides those working in the energy industry with predictive tools and technology to drive exploration decisions, evaluate rapidly evolving opportunities, and achieve better, faster results. The company delivers actionable intelligence over mobile, web, and desktop to analyze and reduce risk, conduct competitive benchmarking, and uncover market insights. Drillinginfo serves more than 3,500 companies globally from its Austin, Texas, headquarters and has more than 550 employees. For more information visit drillinginfo.com.
When
March 26th, 2018 5:30 PM through 9:00 PM
Location
Norris Conference Center - CityCentre




816 Town & Country Blvd, Suite 210




Houston

,

TX

77024




United States
Event Fee(s)
| | |
| --- | --- |
| HGS Member | $ 40.00 |
| Non-Member | $ 45.00 |
| Emeritus/Life/Honorary | $ 40.00 |
| Student | $ 15.00 |
Event Attachments
| | |
| --- | --- |
| Sponsorship Opportunities | |
Event Contact
| | |
| --- | --- |
| Contact Phone | 713-304-8503 |
| | |
| --- | --- |
| contact Email | sgetz@sbcglobal.net |
Event Filter Informations
| | |
| --- | --- |
| Event Owner | International |
---