Short Course 2 - 2016 Africa Conference
Important! Please do not create a duplicate login if you already have one. If you have forgotten your password click the "Request new password" tab above to reset your password.
South Atlantic Margins:
Geology and Hydrocarbon Potential

Monday 12th September 2016
HGS/PESGB Africa Pre-Conference Short Course
This one day workshop is designed to bring explorationists up to date with the recent advances in understanding the geology and hydrocarbon potential of the South Atlantic Margins.  
WORKSHOP PROGRAM
The workshop will review the development of the African and South American South Atlantic margins north of the Walvis Ridge-Rio Grande High and the Equatorial Transform Margin.
The program is structured to track the geological history and the tectonic development through time. New play concepts will be highlighted, and areas of future hydrocarbon potential will be indicated in overlooked zones of both mature and frontier basins.
 1. Basement framework of the South Atlantic before opening. Distribution of Palaeozoic Source rocks.
 2. Opening History of the South Atlantic using reconstruction video. Discussion of Timing of important Events.
 3. Syn-rift geology and new plays. Description of Source Rocks and Reservoirs.
 4. Aptian pre-salt sag phase: Clastic and Carbonate Plays and Prospectivity.
 5. Aptian Salt basin Development and later salt Tectonics, Controls on Sedimentation.
 6. Albian carbonate rafts: Geology and Plays.
 7. Deep water Clastic Sedimentation and Salt tectonics
 8. Tectonics of the Equatorial Transform Margin. New plays.
Workshop comes with most presentation slides in digital format on a USB stick, with two large scale maps of South America and West Africa included. Regional 2D seismic sections provided by Ion/GXT will be used to illustrate important aspects of the structure of the margins.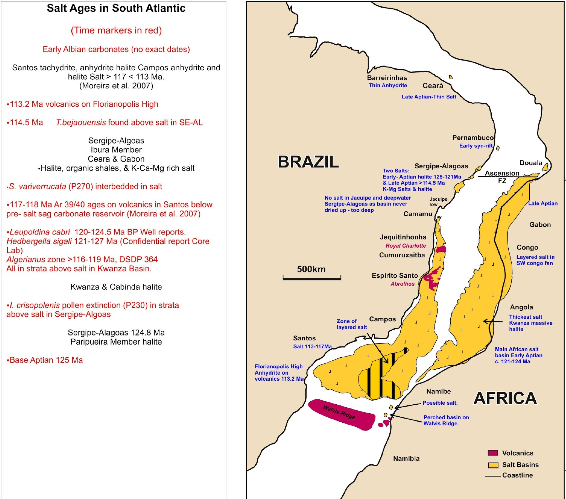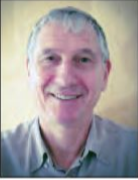 Tutor: Professor Ian Davison, Earthmoves Ltd. Chartley, 38-42 Upper Park Road, Camberley, Surrey, GU15 2EF, United Kingdom.
Tel. +44 1276 671772 ;  e mail: i.davison@earthmoves.co.uk  
Professor Davison's presentation to the HGS International Dinner on January 20, 2014, (see outstanding Index map at https://www.hgs.org/civicrm/event/info?id=1365&reset=1 )  entitled "Hydrocarbon Potential of the North West African Margin" can be seen on YouTube: https://www.youtube.com/watch?v=SKiZLF-hK5w   
He also recently presented the paper "Review of Clastic Rift Plays along the Rift Borders of the Central South Atlantic Margins" at the GCSSEPM Perkins-Rosen Conference here in Houston last December 2015.
Ian Davison has been Managing Director of Earthmoves Ltd. and GEO International Ltd. since 1999.
Ian received a First Class honours degree in Earth Sciences from the University of Leeds before completing his PhD on Malian Precambrian mobile belts at Montpellier and Leeds Universities.  After this, he joined the British National Oil Company in Glasgow for three years where he was involved in International Exploration in NW Europe. He then moved to Salvador in NE Brazil where he lectured in Basin Dynamics, Tectonics and Precambrian Geology for five years. During this time he consulted extensively for Petrobras.
He returned to the UK in 1989 and became a Senior Lecturer in Structural Geology at Royal Holloway, University of London, where he directed the Salt Tectonics Research Group.
Ian is a Visiting Professor in the Department of Earth Sciences, Royal Holloway, University of London.  He has published over 75  papers in scientific journals and books.  Click here for a list of these publications.
Ian has been involved with consultancy work for over 100 oil companies exploring in Latin America and Africa over the last twenty five years. 
Notebook, USB flashdrive, Certificate of Attendance, Networking Lunch, Continental Breakfast, Coffee and Break refreshments are included in the Registration price.
When:   Monday, September 12th, 2016    8:00 AM   through    5:00 PM  
Event Fee(s) for All: $ 250.00

 
When
September 12th, 2016 8:00 AM through 5:00 PM
Event Fee(s)
| | |
| --- | --- |
| HGS Member | $ 250.00 |
| HGS Non Member | $ 250.00 |
| Emeritus/Life/Honorary | $ 250.00 |
| Student | $ 250.00 |
Event Attachments
| | |
| --- | --- |
| Sponsorship Opportunities | |
Event Filter Informations