HGS Microbial Carbonates Field Trip
Important! Please do not create a duplicate login if you already have one. If you have forgotten your password click the "Request new password" tab above to reset your password.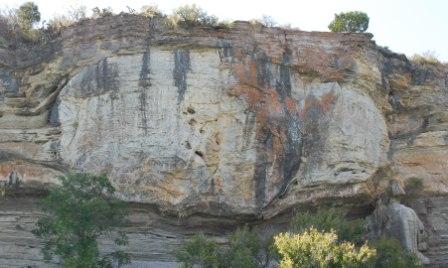 What are microbes?
Microbes are defined as microorganisms visible only under a microscope. Some examples are bacteria, fungi, molds, algae, and protozoa. Microbial sediments have always attracted the attention of sedimentologists and paleontologists, but in recent years the discovery of large oilfields in microbial carbonate reservoirs has generated renewed interest in these rocks, especially in the environments in which microbial carbonates form and the characteristics that make them good reservoirs. What used to be classified as "algal" is now classified as microbial or calcimicrobial. The older classification of living things that included kingdoms of animals and plants has been supplanted by a scheme that puts all living things into three main branches called "domains" of life - Bacteria, Archaea, and Eukarya. Bacteria, including cyanobacteria, and Eukarya, including red and green algae and fungi, are the principal "actors" involved in the formation and diagenesis of microbial carbonates.
Microbial Carbonates in Central Texas
Most microbial sediments and rocks are carbonates, with some of the most spectacular examples being found in Upper Cambrian carbonates of Central Texas – microbial buildups and associated facies in the Point Peak and San Saba members of the Wilberns Formation. Point Peak and San Saba outcrops in Central Texas expose some of the best preserved Cambrian microbial carbonates anywhere. These microbial limestones have not been tectonized and their depositional fabrics and textures have been remarkably well preserved with only minor dolomitization in some stromatolitic and oolitic facies. Thin section study of the microbialites reveals four different calcimicrobes, including Girvanella, Epiphyton, Renalcis, and Nuia.
Point Peak and San Saba rocks outcrop around much of the Llano Uplift (a structural dome with its cover removed to form a topographic basin). The best exposures are in the western part of the area in Gillespie and McCulloch Counties, extending from the Doss settlement in the southwest to the San Saba River in the north. Because it is not always easy to get access to outcrops on private land in the Texas Hill Country, our field trip will take advantage of excellent exposures along segments of the Llano and San Saba Rivers, where we do have access. And making it even more interesting and exciting, the Llano River portion of our trip will be done from kayaks.
Field Trip Day One
The first day trip by kayak will start at White's Crossing near Mason, Texas. We will see famous exposures of microbial buildups in the Point Peak Member, Wilberns Formation. As we paddle downstream, we will have close-up views of microbial bioherms that have fallen into the river from cliffs alongside. As we pass gradually up-section through the Point Peak, we will have a chance to get out on the riverbank to see a variety of sedimentary structures, including mud cracks and flat-pebble conglomerates, some of which are "edgewise" conglomerates formed by strong eddy currents that spun the flat pebbles into accumulations that look like "pinwheels." Our lunch stop will provide an opportunity to walk over a continuous exposure of stromatolitic and thrombolitic microbialites. After lunch we will see microbial bioherms with superb stromatolite accumulations at water level. This location offers a chance for close-up photos of stromatolites in cross-section. As we near the end of our float, we will be passing out of the Point Peak and through the San Saba Member of the Wilberns Formation.
Field Trip Day 2
Day 2 of our trip is a half-day excursion to the US Highway 87 crossing on the San Saba River. After arriving by car, we will walk along the river on both sides of the bridge to examine large ripple marks in grainstones of trilobite-brachiopod hash and microbial bioherms in vertical succession, some with well-developed stromatolitic "capping sequences". Thrombolitic and laminar macrostructures also occur in the buildups at this location.
Notes
Sampling is allowed on both days and photography is encouraged! (Waterproof cameras are preferable for Day 1). Some physical fitness is required for paddling kayaks on the Day 1 float trip. Your trip leaders will be pleased to discuss microbial carbonates and especially microbial carbonate reservoirs of other ages and locations and how the Texas Cambrian microbialites are relevant for comparison. Participants may be interested in a new CD that will be available by the date of our field trip. It is part of the AAPG "Getting Started" series and is titled "Getting Started with Microbial Carbonate Reservoirs" by E.A. Mancini, W.M. Ahr, W.C. Parcell, and W.A. Morgan.
Registration
The $250 registration fee covers van transportation, hotel accommodations in Mason for two nights, kayak rentals, and lunch on Saturday (all other meals are the responsibility of the participants). Vans will depart Houston at 12:00 P.M. Friday afternoon, October 15th, and return to Houston Sunday afternoon, October 17th. For more information, call Gary Moore at 713-466-8960 or Richard Howe at 281-788-8340.
When
October 15th, 2010 12:00 PM through October 17th, 2010 5:30 PM
Event Attachments
| | |
| --- | --- |
| Sponsorship Opportunities | |
Event Filter Informations