SIPES Top Secrets of Successful Independents
Important! Please do not create a duplicate login if you already have one. If you have forgotten your password click the "Request new password" tab above to reset your password.
SIPES Continuing Education course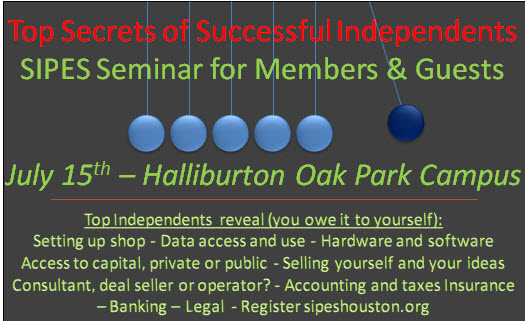 Top Secrets of Successful Independents
DATE: Friday July 15, 2011 9:00am-4:00pm
LOCATION: Halliburton Oak Park Auditorium 10200 Bellaire Blvd.
COST: $75 Houston, TX 77072 281-575-3000
The cost is $75 which includes a deli lunch and snacks. The presentations will be short and focused, with an emphasis on imparting valuable new concepts and techniques.
Please call B.K. Buongiorno with credit card info or mail check to:
5535 Memorial Dr., Suite F654
713-651-1639-telephone 713-951-9659-fax
When
July 15th, 2011 9:00 AM through 4:30 PM
Event Attachments
| | |
| --- | --- |
| Sponsorship Opportunities | |
Event Filter Informations