Byron F Dyer
MARCH 3, 1931 – APRIL 18, 2020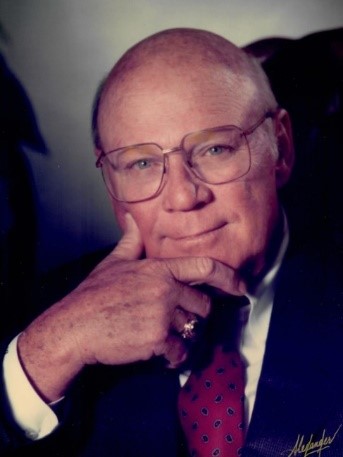 Byron Fred Dyer, Jr. was born in Dallas, Texas on the 3rd of March 1931. He lived his earliest years in Houston, Texas and spent his teen years in Mont Belvieu, TX, where he graduated from Barber's Hill High School. Byron attended Baylor University until he was called to serve in the United States Army during the Korean War. He was stationed in Germany and served as a lieutenant for a unit based in Nuremberg. Upon his return to the United States, Byron enrolled in Lamar University in Beaumont, TX where he received a Bachelor of Science in Geology in 1957.
After graduation Byron was hired by Tidewater Oil Co. to work as an exploration geologist at their district office in Corpus Christi, TX. It was there that he discovered his love for the oil business, particularly the upstream segment of oil and gas exploration. Following several years with Southland Royalty Co. and Texas Eastern Transmission Co., Byron and his family relocated to Houston where he served as District Manager for King Resources. A couple of years later, Byron was hired by Boone Pickens to manage the Gulf Coast division of Mesa Petroleum Co. After several years with Mesa, he made the decision to venture out as an independent geologist and formed his own outfit which he named Sierra Production Co. Little did he know that his legacy would be molded by the decision he made that day.
In 1982 Byron was approached by Norcen Ltd., A Canadian based oil and gas company, who presented an offer for him to develop a U.S. subsidiary of their business under the name Norcen Explorer, Inc. He would go on to serve as President and CEO of the company for fifteen years. After building the company from the ground to nearly 100 employees Byron retired, leaving behind a successful and highly functioning company that had become a major player in the Gulf of Mexico in offshore exploration and production. His retirement was only temporary, as he soon shifted his focus towards the world of banking. In the mid 1990's, Byron gained a controlling interest in Community Bank located in Katy, TX where he also served as Chairman of the bank for a number of years. He thoroughly enjoyed the banking business and the people he worked with. Together they were all able to grow the bank to a second location, and eventually sold to Sterling Bank in 2002. It became the perfect second career for Byron and, upon the completion of the sale, his retirement was fulfilled.
Byron was a member of several professional organizations including: The American Association of Petroleum Geologists (AAPG), The Houston And Corpus Christi Geological Societies, SIPES and the AAPG Foundation Trustee Associates. In 1996 he received one of the most coveted honors in the Oil and Gas industry when he was inducted into the All-American Wildcatters Association. Ministry.
Unlike many, Byron was also able to fulfill a dream of every geologist: in 1957 he was credited with the discovery of a new mineral that was eventually named 'Chambersite'. The name was derived from Chambers County, where the mineral was first observed. While working in Mont Belvieu, Byron was asked to look at some brine returns from a gas storage well containing some mysterious and unfamiliar crystals. Once presented to Dr. Frank Beck, a mineralogy professor at Lamar University, it was confirmed that Chambersite was indeed an unfamiliar mineral to him as well. Dr. Beck later provided the complete scientific description of Chambersite to The Journal of The American Mineralogist. Byron F. Dyer, Jr. was then credited with the discovery of this beautiful mineral.
Throughout his Houston years, Byron enjoyed golfing with his buddies at Lakeside Country Club. He was an accomplished tennis player as well, but recurring tennis elbow put an end to that activity in the 1980's. He loved the great outdoors and always looked forward to game bird hunting and many fishing trips in South Texas, Mexico and Louisiana (and wherever else he could sneak away to). His biggest love of the outdoors was found in Falfurrias, TX where he spent many Thanksgivings at his Palo Blanco Ranch with family and friends. While cattle are an important part of the ranch, there was no substitution for the deer, nilgai, turkey, dove, quail and the beautiful South Texas sunsets he loved to observe with his family. Based on the music played on those trips, he loved those Cheeseburgers in Paradise, wanted to be a Highway Man and taught everyone to always appreciate The Sounds of Silence.
Byron was preceded in death by his parents, Byron Fred Dyer and Hallie Epperson Dyer; his daughter, Stephanie Leigh Dyer (1965-1974) and his son, Jeffrey Lane Dyer (1960-2019). He is survived by his wife of 60 years, Constance Mayes Dyer; his daughter, Kelly Elaine Gabrisch (Mark) and his son, John Steven Dyer (Christina Gill Dyer). He is also survived by eight grandchildren.
Summarized from Life Tributes section of the Houston Chronicle on April 26th.