Albert Eugene "Gene" Woodward
1929 - 2021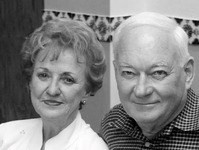 Albert Eugene "Gene" Woodard, 91, passed away peacefully on Thursday, August 12th at his home in Houston. Gene and his wife, Royce Brunt Woodard, celebrated their 69th wedding anniversary together, just three days before they both went to be with the Lord.
Gene was born in Tampa, Florida on November 15, 1929, and was the second son of George and Bess Woodard. The Woodard Family moved to Houston early in Gene's childhood, where he attended Lamar High School and the University of Houston, earning a degree in Geology. During that time, he met the love of his life, Royce, on a blind date and "convinced her to marry him." They were married at Bethany Christian Church, and shortly after welcomed four children. The Woodards moved to a new neighborhood out west, Briargrove Park, and built a life surrounded by family, friends, and laughter.
In his early career, Gene took an interest in geology and Houston's prolific oil and gas industry. He began his professional life with Harrison Interests, a career that Gene routinely referenced as some of the best and most formative years of his life. Gene retired from Harrison Interests in 1985 to create his own oil company, Woodard Energy. His tenured career took Gene throughout many parts of Texas, hunting for oil and making friends along the way. Gene was a member of the Houston Geological Society, AAPG, the National Rifle Association, and was a member at Bethany Christian Church and Grace Presbyterian Church.
Gene's passions extended beyond oil, as he was a fan of hunting, fishing, and loved the outdoors. He frequented their properties throughout Texas, but loved cultivating the land at The Wood-Duck Club in Damon, Texas. Gene worked with Ducks Unlimited to foster a sustainable hunting and fishing club, and was able to share the experience with his family and friends alike.
Above all else, Gene most cherished the family he and Roycie created. Their four children, six grandchildren, and 8 great grandchildren were Gene's proudest accomplishments, and he routinely let them know that he was honored to be their patriarch. Gene showed that love in many ways, but he was particularly fond of the practical joke. He will be remembered as a prankster with a huge smile, a man that would do anything for his family, and most of all, a true gentleman.
_____________
Royce and Gene were preceded in death by parents George and Bess Woodard, Roy and Jessye Brunt; siblings Jack Woodard, William "Bill" Woodard, and Jessye Ruthe Holleman, son-in-law Mike Fields, niece Patricia Kirkwood Crawford, and countless other friends they made throughout their lives. Left behind to carry on their immeasurable light and legacy are children Cathy Woodard Fields of Alice, Susan Woodard Emerson of Houston, Daniel Roy Woodard of Hempstead, and Albert Eugene "Rusty" Woodard Jr. of Corpus Christi; grandchildren Charles "Chris" Christian, Kelly Fields Murdoch, Amy Fields Gunn, Ally Hall Hare, Jaime Emerson Brochu, Matt Fields, 8 great grandchildren, and long-time Woodard Energy employee and friend, Gail Jones.
Published by Houston Chronicle on Aug. 22, 2021.